RECORD NUMBER: 2018/2892
AUTHOR: Ian Greenham, Director Technical Services
EXECUTIVE Summary
The purpose of this report is to update Council on construction and maintenance works which have been carried out since the last current works report to Council.
Link To Delivery/OPerational Plan
The recommendation in this report relates to the Delivery/Operational Plan strategy "9.1 Preserve - Construct and maintain a road network meets the community's transport and infrastructure needs".
Financial Implications
Nil
Policy and Governance Implications
Nil
That Council resolves to acknowledge the information provided in the report on Current Works.
further considerations
Consideration has been given to the recommendation's impact on Council's service delivery; image and reputation; political; environmental; health and safety; employees; stakeholders and project management; and no further implications or risks have been identified.
SUPPORTING INFORMATION
Road Maintenance
Road maintenance in the form of routine pothole patching was undertaken across the City by both the mechanical jet patching unit and by hand with Council's asphalt patching crew. Of note were extensive works on Forest Road and Beasley Road.
Road Upgrading
Cargo Road
Works on Cargo Road have continued with two separate works teams on site.
Council's contractor CPB has completed works on a controlled release stormwater structure at Ploughmans Lane which is designed to reduce the impact of high velocity stormwater flows eroding the creek line embankments.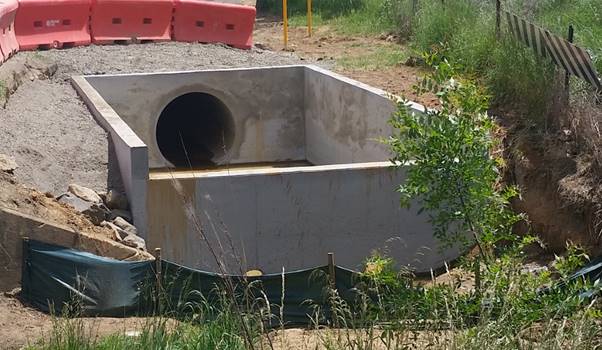 Photo: Stormwater discharge control structure at Ploughmans Creek
Council crews have been able to complete the preparation of foundation works for the road pavement on the Western end of the project from Carwoola Drive to Witton Place. Placement of the first layer of the road pavement has also been completed with crews now digging in subsoil drainage lines.
The placement of kerb and gutter and a preliminary seal on this section is planned for December.
Forest Road - Bloomfield
The sealing of Forest Road with a hot mix asphalt surface has been completed although Council staff are yet to sign off on the ride quality of the finished product.
The majority of concrete shared pathways have been completed.
At the time of writing this report final preparations were also being undertaken for the sealing of the new car park adjacent to Jack Brabham Park which will cater for around 130 parked vehicles when completed.
Street lighting installation is progressing as a separate contract and it is expected that the section from the main hospital entrance to the Southern Feeder Road will be installed and commissioned prior to Christmas. Linked to the energising of these street lights is the commissioning of the traffic signals at the main hospital entrance which should also be in service prior to Christmas.
Street lighting immediately outside of the hospital will be undertaken in the new-year following a design revision that requires the undergrounding of the existing overhead high voltage power lines.
CONCRETE AND DRAINAGE
Footpath construction
Works were completed on a new concrete footpath on Anson Street from Matthews Avenue to Douglas Place.
Council contractors also began work on new footpaths in North Orange with the extension of a 2.5m wide shared path from Palermo Street to Platinum Drive.
Footpath rehabilitation
Council continued footpath rehabilitation works in:
· Sale Street – from Orana Street to Benview Avenue (concrete)
· McLachlan Street – from Byng Street to Summer Street East (concrete)
· Tobruk Crescent – full length.
WATER SUPPLY SERVICES
The type and number of water supply service responses by maintenance staff are shown in the table below.
| | | |
| --- | --- | --- |
| Category | July 2017 – June 2018 | October 2018 |
| Leaking meters | 422 | 25 |
| Faulty meters (incorrect readings) | 133 | 1 |
| No supply | 72 | 4 |
| Water pressure complaints | 24 | 5 |
| Meter box/lid replacements | 57 | 9 |
| Water quality | 46 | 2 |
| Service break | 9 | 0 |
| Service leak | 36 | 2 |
| Main break | 63 | 5 |
| Main leak | 311 | 21 |
| Valve leak | 23 | 0 |
| Hydrant leak | 90 | 6 |
| Total Water Requests | 1286 | 80 |
New Water Services
· 20mm water service at 20 Cedar Street
· 20mm water service at 95 Dean Drive
· 20mm water service at 7 Sweetheart Place
Water Service Renewals
· 20mm water service renewal at 142 Hill Street
Water and Sewer Private Works Orders
· 100mm and 150mm under pressure water main tappings for Cabonne Council
· 20mm water service and sewer junction at 60 Kearneys Drive
· 20mm water service and sewer junction at 16 Jasper Street
· 100mm fire service and 65mm domestic connection to 135 Kite Street
· 50mm water service connection to 150 Peisley Street
· 32mm water service connection to 154 Peisley Street
· 32mm water service connection to 156 Peisley Street
· 20mm water service connection to 150 Peisley Street
· 40mm water service Connection to 107 Moulder Street
Water Construction Works
· Cargo Road
The Carwoola Drive water main connection is expected to be completed by 30 November 2018.
Works have been completed in the operations area of the Ploughmans Valley booster pump station. These operations improvements have improved the overall performance and minimised the impact to surrounding residences in Wentworth Estate.
· Olver Street Water Main Renewal
All work on the renewal of the Olver Street water main have been completed.
· Hawkins Lane Water Main Renewal
The Contractor is nearing completion of the renewal of the Hawkins Lane water main. The has been renewed to a 100mm UPVC water main and services are to be relocated and works completed by early December 2018.
· Icely Road Water Main Renewal (Wakeford Street to Allenby Road)
This tender closed on 25 October 2018. Council is currently undertaking an assessment of this tender.
SEWER SERVICES
The type and number of sewer service responses by maintenance staff are shown in the table below.
| | | |
| --- | --- | --- |
| Category | July 2017 – June 2018 | October 2018 |
| Sewer blockages | 391 | 33 |
| Odour | 21 | 0 |
| Overflows | 140 | 19 |
| Total Sewer Requests | 552 | 52 |
Sewer Construction Works
· 75 Franklin Road
· 7 Frederica Street
· 47 Currong Crescent
· 1 Eloc Place
· 7 Endeavour Street
· 21 Cameron Place
· 12 Thomas Street.
WATER SUPPLY SECURITY
Water Storage Levels
The combined storage of Suma Park and Spring Creek Dams is currently 50.40%. Water storage trends for the combined storages since July 2015 are shown in the graph below.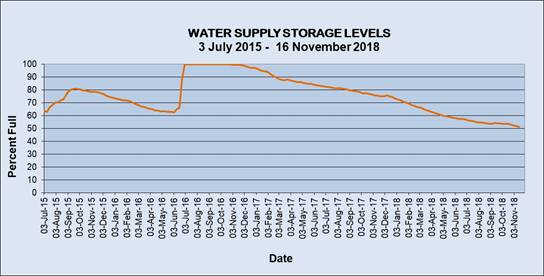 | | | | |
| --- | --- | --- | --- |
| Location | Date | Level Below Spillway (mm) | % of Capacity |
| Suma Park Dam | 19 November 2018 | 8359 | 44.06 |
| Spring Creek Dam | 19 November 2018 | 953 | 79.39 |
| Lake Canobolas | 19 November 2018 | 1343 | 64.26 |
| Gosling Creek Dam | 19 November 2018 | 1189 | 67.40 |
Supplementary Raw Water Sources
Extractions from the supplementary raw water supplies in recent months are provided in the table below.
| | | | | |
| --- | --- | --- | --- | --- |
| Raw Water Source | August 2018 (ML) | September 2018 (ML) | October 2018 (ML) | Total 2018/2019 |
| Bores* | 14.83 | 10.49 | 9.68 | 48.51 |
| Stormwater | 30.28 | 109.47 | 67.28 | 209.16 |
| Macquarie River | 0.00 | 124.86 | 33.67 | 158.53 |
| Total | 45.11 | 244.82 | 110.63 | 416.20 |
* Bores include two at Clifton Grove and one at the Showground
Information on the Decision Support Tool, which is used to determine the need for the transfer of supplementary raw water sources, and a more detailed monthly summary of raw water transfers can be found on Council's website at
https://www.orange.nsw.gov.au/water/oranges-water-supply/.
Macquarie River Flows
The flows in the Macquarie River monitored downstream of Long Point (Station 421192) did not exceed the flow rate trigger (119 ML) to operate the Macquarie Pipeline from 24 October to 20 November 2018 and no water was transferred to Suma Park Dam for the period.
The chart below was sourced from the WaterNSW website with flows presented in megalitres per day (ML/d) and represents the period 24 October to 20 November 2018.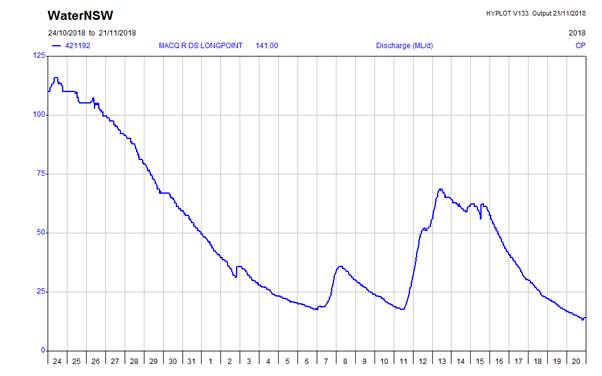 Water Consumption
Average daily water consumption during the week ending 15 November 2018 was 209 litres per person per day. The average daily water consumption trends since October 2017 is shown in the graph below.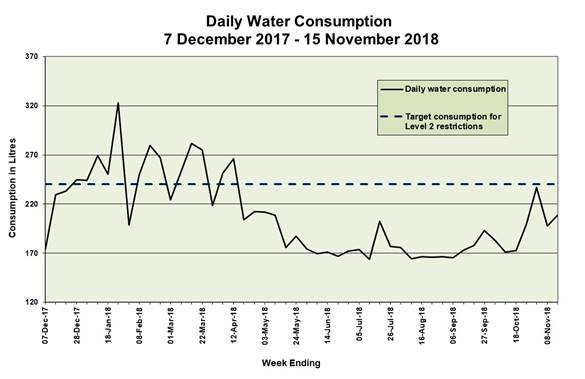 The average daily city-wide water consumption for the period between 19 October 2018 and 16 November 2018 was 13.0ML/day.
Water Restrictions
Residents are currently on Level 2 water restrictions. It is proposed to introduce Level 3 water restrictions from Saturday 1 December 2018.
Projecting forward, assuming no inflows (that is a worst case supply curve) and based on the current water demand, modelling has predicted that we may need to implement Level 4 water restrictions by the end of February 2019 i.e. when the combined Suma Park and Spring Creek Dams water storage reaches 40% (currently at 49.93%).
Council's Communications team will be running a community awareness program predominantly through social media. It will focus on dam levels, water consumption, water saving ideas and current and potential future water restrictions. The water use target for Level 3 water restrictions is 220 litres per person per day.
Council is also a member of Smart WaterMark, an organisation that provides advice to residents on how to save water. The Smart Water Advice website can be accessed via Councils website https://www.orange.nsw.gov.au/water/.
DRINKING WATER QUALITY
Water samples are collected as a component of Orange City Council's Drinking Water Quality Monitoring Program which forms part of the NSW Health requirements. Samples are collected regularly and sent to a NSW Government National Association of Testing Authorities (NATA) accredited laboratory for analysis. Samples collected in October 2018 complied with the Australian Drinking Water Guidelines, 2011.
EUCHAREENA ROAD RESOURCE RECOVERY CENTRE LANDFILL STAGE 3 (ERRRC)
Physical site works commenced on 22 October. To date topsoil has been stripped and excavation is down to the subgrade level of cell 3. The next activity will involve linking cell 2 to cell 3 and placing subbase material followed by a clay liner.
The current date for practical completion for this project is 27 February 2019.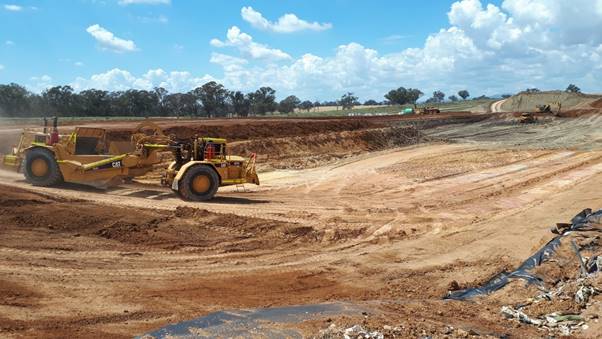 CENTRAL TABLELANDS REGIONAL WATER SECURITY PROJECT – Orange To Carcoar Pipeline
The current date for practical completion of the Orange to Carcoar Pipeline by the contractor Leed Engineering was extended by two days to the 2nd December 2018. On the afternoon of 23 November the last of the five, seven day pumping scenarios commenced. For the most part these pumping scenarios have been successful with only minor issues found that can be adjusted post commissioning.
As mentioned previously, a small section of pipe between Lake Rowlands and the Carcoar filtration plant was removed from the contract when Central Tablelands Water (CTW) expressed an interest in installing it. The pipe is onsite and CTW proposes to commence work in February with completion expected in March.
Pressure testing of the effluent line that was sabotaged reveals there is still a minor leak. While over the length of a 10km water main a leak of this nature would be considered insignificant, the fact that this is an effluent line requires Council to exercise a higher level of diligence. It is now proposed to subdivide the pipeline to isolate the final leaks location.
Decommissioning of Dam off Hawkes Lane
At the special meeting of Council on 17 October 2018, local contractor PCB was awarded the contract for the decommissioning of Hawkes Dam. The contractor commenced construction on 12 November 2018. The date for practical completion is 22 February 2019, however due to the recent rainfall, an extension of time is likely to be granted.
To date the contractor has placed the 375mm low flow pipe from the proposed spillway location to the downstream dam on the northern side of Hawkes Lane. Emptying of the dam is expected to commence next week.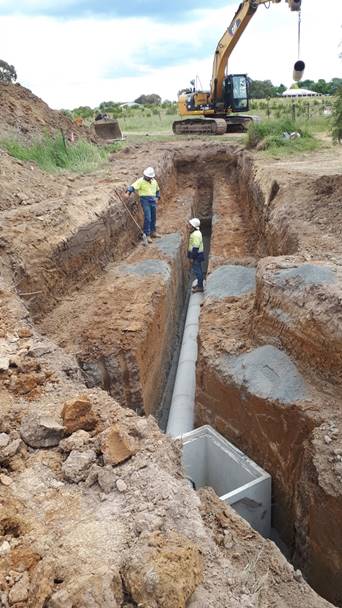 Southern Feeder Road CONSTRUCTION
The Request for Tender (RFT) for the Southern Feeder Road (SFR) between Elsham Avenue and Forest Road closed on Thursday 8 November 2018. This project will involve the construction of 720m of roadway and a bridge over the Bathurst to East Fork railway line. As a separable portion, the RFT will include the extension of Edward Street through the old saleyards site from McNeilly Avenue to the proposed SFR.
A report on the tender submissions will go to the Council meeting on 4 December 2018.
AIRPORT PASSENGER NUMBERS
Passenger numbers for October 2018 were 7,435 compared with 6,537 in the same month in 2017.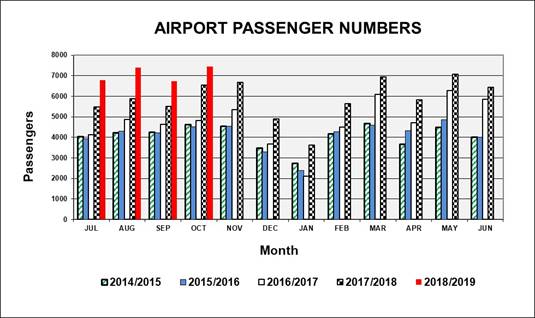 Airport Energy Usage
Energy used at the airport during October 2018 was 22,056.92 kWh at a cost to Council of $6,040.75.
ENERGY USE
The following information is sourced from E21, Council's energy software.