4 Notices of Motion/Notices of Rescission
RECORD NUMBER: 2018/1783
I, CR Glenn Taylor wish to move the following Notice of Motion at the Council Meeting of 17 July 2018:
That Council establish a community "wood and heating bank" for donations of suitable tree cuttings from the Community and Council.
Background
Council prunes, maintains and removes Council trees within the Orange area and such a wood bank can then be used by members of the community who may be doing it tough.
Signed Cr Glenn Taylor
STAFF COMMENT
Land: The logical place for any proposed community wood bank would be at the Ophir Road Resource Recovery Centre (ORRRC). We already stockpile green waste there which is either processed under "The Mulch Exemption 2016" from EPA for resource recovery centres under Part 9, Clause 91 and 92 of the Protection of the Environment Operations (Waste) Regulation 2014 (excludes kerbside collection sourced green waste); or composted offsite in accordance with the Australian Standard AS4454-2012 (kerbside green bins, Food Organics, Garden Organics – FOGO).
There is limited land currently available at the ORRRC but with planning space could be made available.
Risk: The risk is more around the supply of inappropriate timber for firewood or the supply of green timber. Both of which could lead to the build-up of toxic fumes inside the house or chimney/flue fires that could potentially burn down a home.
To season firewood it should be cut split and stacked and allowed to dry out for 6-12 months. Uncut or unsplit hardwood timber may take 2-3 years or more to season.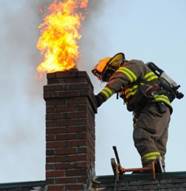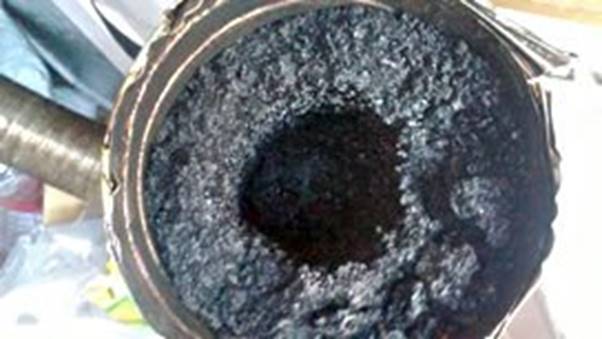 Blocked flue liner caused by burning unseasoned firewood
Comments from Parks & Gardens Staff:
· Nearly all of the tree pruning that is carried out on Council Trees is green timber, which are pruning's from live trees, not suitable for firewood;
· Any dead street trees that are removed are still green, as they are removed relatively quickly once identified, not suitable for firewood;
· Any small tree pruning's are chipped with leaf and used as mulch either in garden areas or in and around tree plantings in reserves;
· Most of the tree species that are grown as street trees are exotic species, not necessary suitable as firewood, even if not green;
· Any dead timber that is removed – particularly old Eucalyptus trees are relocated to areas such as the wetlands for use as habitat. There are not many of these – perhaps 4-5 per year; and
· Any larger timber pieces from exotic street trees that are worthy of keeping are used in or around reserve areas – such as the Orange Adventure Playground for seating or enhancement of areas.
In summary none of the existing timber sourced from Council pruning's or tree removals is wasted and most of it isn't suitable for firewood.
If Council is going to consider supplying firewood: It needs to be done safely. A senior member of the parks and gardens staff would have to be responsible for vetting timber bought in by locals as to its suitability prior to processing. Plant and equipment would need to be hired or purchased to mechanically process raw logs into cut and split firewood. Land and labour required to stack timber into piles that allowed air movement and protection from the rain for up to 12 months, prior to supplying to the general public.
There would be a modest upfront cost as well as ongoing costs, to manage stockpiles and processing.
Any Council supply would need to be available equitably to all residents and ratepayers, which then opens up the argument of being in direct competition with existing local suppliers.
Existing Suppliers: A web search revealed three local suppliers within the 2800 postcode and numerous others nearby. All supply seasoned quality Australian hardwoods suitable for firewood at a commercial rate of approximately $150 per cubic metre:
· Ablaze Firewood & Bobcat
· Hotbox Firewood
· Valley View Firewood Supplies
Summary: While a commendable suggestion to utilise an existing Council resource to alleviate the strain of those doing it tough:
· the resource is already being fully utilised by our Parks and Gardens teams;
· there will be a cost to process and supply seasoned quality firewood that must be recovered through an increase in the waste levy or fees and charges; and
· equitably, it may not alleviate the strain of those doing it tough but rather go into direct competition with existing local suppliers.
While it is a matter for Council consideration, I do not recommend Council pursues an avenue of direct supply on the basis of the above investigation.
Director Technical Services.
Financial Implications
Any activity managed through the Resource Recovery Centre must be completed on a cost recovery basis through an increase in the waste levy or fees and charges.
POLICY AND GOVERNANCE IMPLICATIONS
Our insurers would need to be informed and satisfied that all hazards had been identified and risks managed to an acceptable level.
The supply of wood at a subsidised rate may be seen to be in conflict with the Wood Smoke Program that Council's Development Services Team have partnered with the EPA to reduce wood smoke in the city.